The Top 15 Marketing & Advertising Strategies for Promoting Your CrossFit Box Affiliate
Disclaimer: CrossFit® is a registered trademark of CrossFit, Inc. Become an affiliate. FitnessTexter LLC is not affiliated with, connected to or associated with CrossFit, Inc or any of its subsidiaries. CrossFit, Inc. does not sponsor, approve of, or endorse FitnessTexter LLC.
If you're reading this blog post, it's most likely because you're a CrossFit box affiliate looking to for some marketing & promotion ideas, no? Well, first things first, congrats on being a box owner. That's a big accomplishment right there. Lots of people talk about quitting their day job and going into business for themselves, but few take the plunge. If you want to become a CrossFit affiliate, click the link in the disclaimer at the top of this blog post.
Back to business. You're looking for advertising ideas for promoting your CrossFit; you're in the right place. Below you'll find 15 surefire marketing strategies to boost your box's membership. They might not all work for your specific affiliate, but give them a read and figure out which ones will work and which won't. If you have any more suggestions, please leave them in the comments at the bottom.
1. Give Out As Much Free Merchandise As You Can Afford
I can hear you thinking right now, "Give away merchandise? How is that going to improve my CrossFit's revenue? Never!" I can't blame you for thinking that; giving out free stuff is usually a bad idea. Even Silicon Valley is stopping it's long-running tradition of giving away free stuff. However, if you're looking to promote your CrossFit, there's no better advertising than having your members wearing gear all day long. Most tech companies give their employees free t-shirts when they start working at the company. It gives employees a super simple outfit for every day of the week. When I was working for PaySimple in 2013, they gave all their employees 3 t-shirts and a hoodie. Any given day in downtown Denver you would see a couple PaySimple employees walking around the city during their lunch break or at happy hours after work.
I personally have a few friends who do CrossFit in Denver and normally once per week they each wear a v-neck from their box. Imagine a box with 50 members, and every member has 2 shirts. You can guarantee that your box's name is getting advertised by about 5 members per day, all month long. That's a LOT of eye traffic. Eye traffic leads to conversations and pretty soon you're current members are chatting about your box to the guy on the bus. Boom, you've got yourself a new lead.
So go drop $300 on a ton of shirts for your box and start giving them out for PRs, birthdays, new memberships, etc. You'll instantly have a bunch of walking promotions for your affiliate. If you're looking for ROI numbers on t-shirts, look at it this way. You spend $10 on each t-shirt that you give out. If you give out 15 t-shirts and just one of your current members recruits a new member because of that shirt, you've instantly paid off the investment (Given a $150/month membership at your box). Those t-shirts will continue to pay dividends for years to come, trust me.
2. Hold More Than One Free Weekly WOD
It's pretty much common knowledge that every CrossFit holds a free workout on Saturday mornings. We're big fans of this workout, but we think that boxes should hold at least 2 free workouts per week. Not everyone is free on Saturdays. Most of your business working people have solid Saturday plans scheduled by Wednesday. They might want to give your box a try, but they're already booked up. Why not offer a free Wednesday night workout? Most working folks don't preschedule weekday plans too far in advance. This gives them a chance to attend your mid-week box workout and hopefully become a future member. If none of your trainers are able to work an extra class, it's time to step up as the owner of your box and do what's necessary. Lead by example and get our there and lead a WOD. Maybe it's been a while since you've got down at dirty at your box, but adding an extra class is a great marketing idea for your box that you should try out. It's a great way to promote your box, show your prowess as a coach and increase membership.
3. Start a CrossFit Athlete of the Month Club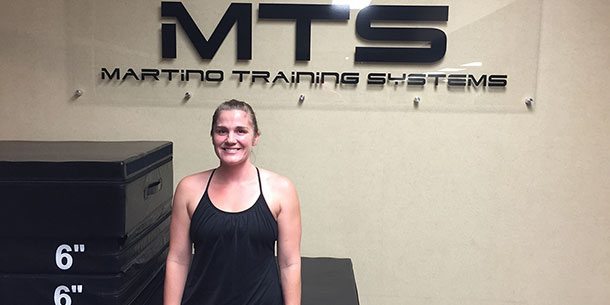 Having a Box Athlete of the Week club is a great way to increase your exposure, especially on Facebook. Everyone loves being recognized for their accomplishments, and you better believe that your athlete of the week is going to let ALL of their Facebook friends about their accomplishment. The more people that are talking about your box, the more that will potentially become members. Starting an athlete of the month club is a great marketing strategy. Your chosen monthly athlete will certainly be sharing your FB post about their accomplishment, thereby increasing your CrossFit box's Facebook traffic. Check out BlackBird CrossFit's great example.
4. Perform an Outdoors Workout to Get Public Attention
Word of mouth marketing is one of the best things you can do for your box. How do you go about getting more WOM advertising? One of the easiest ways is to start holding outdoor fitness classes. Have you ever seen a fitness bootcamp performing in a park? They usually have quite a crowd around them. Why? Because people are interested in what's happening and might be curious to give it a try themselves. In Denver, you would see at least two different bootcamps in Wash Park on any given weekend. I guarantee those guys were generating interest for their business. If your space allows it, hold some of your WODs outside. It's a simple process to move your equipment outside, and you'll get the added benefit of sidewalk traffic seeing your workout in progress. Go with something like a Reebok travel WOD so that you're not dragging a ton of equipment around. Box jumps, burpees, you know the drill. Make sure you have some business cards handy since you're certainly going to be fielding questions from interested passersby. If you're doing the WOD in the same place every week, put up some FitnessTexter flyers with your texting promotion. This would be a great opportunity to generate leads for your box.
5. Sponsor Your Athletes for a Sports Team
Summer is nearly here and you know what that means…outdoor sports leagues. Be it volleyball, soccer, or the big one, kickball! One of the best (and most fun ways) to advertise your CrossFit is to make the investment in a bunch of branded t-shirts and sponsor your athletes in a local sports league. They'll be wearing your logo and promoting your CrossFit at every game(and at the bar afterwards), and you can guarantee they'll be talking about your box with anyone who is interested. Can't get any better work of mouth advertisement. Once summer comes to an end, you can look into sponsoring an indoor volleyball team. Regardless of which type of sports team you sponsor, you'll have your members hanging out (building community), and they'll be marketing your affiliate as a result.
6. Use EFT Payment Processing to Increase Monthly Recurring Revenue
This isn't so much a marketing strategy, but it's a great way to increase your CrossFit's profit and recurring revenue. Set up EFT payments, as soon as possible. There's no better way to increase your monthly recurring revenue than automatically withdrawing payments from your members' bank accounts. Use a company like PaySimple, MindBody or ZenPlanner. If you've been in the gym business for awhile, you know that profitability fluctuates rather quickly. One month you're processing several thousand in payments and then the next month you have 15 cards get declined and you're instantly down $1000 in monthly revenue. Trying to get members to get a new card on file is like herding cats. You can call and call and call, but they never seem to answer when you're asking for last month's late payment. With EFT, you're drafting money directly from their bank account (which normally always has funds), and will seldom deal with late payments.
7. Offer Private CrossFit WODs for Businesses & Corporations
You know who pays big bucks for fitness classes? Businesses! Offer private fitness classes to local companies in your area. It's a great way to boost your CrossFit's revenue without pushing class size above capacity. Perhaps a noon WOD a few times a week. Companies want happy employees, and if they get a free fitness box workout 3 times a week, they'll be quite happy (just look at Google's employees).. Plus, with corporate accounts, you'll be able to charge a more substantial rate. $1000/month isn't much for a large Fortune 500 company. Get on it. Start prospecting today and you'll be teaching at a local business in no time. Do some research on the demographics of your local companies. If you've got software companies in town, you can expect a younger crowd (and stronger athletes). If you've got factory in town, you might have to adjust your workout to an older crowd. Regardless of who you target, corporate fitness classes are a great advertising idea for your box. Yoga companies have been doing it forever, why aren't you?!?
8. Create Cross-Promotions with Local Fitness Businesses to Increase Membership
One of the best ways to increase your box membership is to create partnerships with local businesses, like yoga studios and karate studios. The logistics are simple; you're looking for a way to advertise your CrossFit to new potential members, and the other business is looking to market their business to your CrossFit members. So, go out and find a local yoga studio that wants to team up. Their members will get a discount at your facility and your members will get a discount at their facility. It's as simple as that. You'll instantly have access to another untapped demographic in your area. Make sure to ask about the possibility of using the other business's email list to tell all their members about the deal (and you should do the same with your email marketing list as well). This is a great marketing strategy for prospecting new members. It doesn't take much work for either of the businesses, but you'll see a definite boost in membership as a result.
9. Launch a Geographically-Specific Google AdWords Marketing Campaign
When you enter the world of Google Adwords marketing, you need to start slowly. It's very easy to start dumping hundreds of dollars a month into advertising before you even know it's is having positive results. As easy way to start advertising your CrossFit, especially if you're the new guy on the block, is to set up a location-based Google Adwords campaign. By going with the location-based strategy, you're not going to be wasting money marketing your box to people who live outside of your business radius. No use advertising your affiliate to people who live 10 miles away. Those are wasted clicks, and they add up. Once you start getting a feel for how AdWords works, you can start getting more precise or wide open with your marketing budget. However, at the start, set a nice low budget like $10 per day and go from there. You don't want to waste all your marketing budget in the first week of the month. A good strategy after opening your affiliate is to start with a location setting of just your city. This way, only people in your city are going to see your banner ads. This will get the word out about your box, as well as start generating web traffic to to your website. Read step #10 below to see how to leverage your site for some organic web traffic.
10. Give Your Website an SEO Makeover to Make Sure You Appear in Google
There's nothing worse than seeing an affiliate's website is using WordPress and still has the WordPress title tags in place. Don't know what a title tag is? Come on guys! Get your act together. We're in the 21st century. If you're not getting your act together when it comes to optimizing your website's search presence, you're going to end up on page 2 of Google you're going to fail. First things first, sit down and give your website a thorough SEO audit. Make sure all your pages have appropriate title tags and meta descriptions. Make sure you're Open Graph setting are all in place. If someone share's your website on Facebook and the open graph settings are wrong, you're going to look horrible. If your goal is to make money and have a successful CrossFit affiliate, you need to make sure you have everything in place. Your website is the public's view into your business; and a poorly-managed website usually means a poorly-managed business.
11. Offer College-Only CrossFit Workouts for the Local Students
Everyone knows that college students are fitness freaks. Take advantage of this and start offering college-student-only classes. Your normal daily workouts are probably early in the morning and late at night. The good thing about college students is that they normally have large chunks of time available during the middle of the day, when you're box is empty. You can also look at discounting these college-student memberships. Make sure that the discount is only effective is the come in during the college-only hours. This way, you don't have full-price members working out next to discounted members. This can tend to anger your full-price members, and that's not what you want to do. However, if you can fill your box with a bunch of college kids during the middle of the day, you'll get a nice bump in monthly recurring revenue for your box and you'll also get a ton of free Facebook posts (since college kids use social media more and more).
12. Invest in some Creative Marketing Techniques for Your Affiliate
Most businesses are obsessed with social media ads these days. Yes, they can work, every now and again. However, they're not the golden goose. Think about going back to the basic when you start marketing your CrossFit affiliate. The good ol' fashion newspaper ad has been a mainstay in the advertising world for centuries; and with very good reason. You can also start advertising your box with some handouts, flyers, sandwich boards, car wraps, parade floats, you name it. There are plenty of creative marketing strategies out there that people have somewhat forgot about since the advent of the social media advertising boom. One of the main benefits with old fashion marketing is that you can easily measure the success. If you have a flyer campaign and people get a 10% discount for bringing in the flyer, boom! you know it worked. There's also FitnessTexter (that's us!). We set up text message marketing campaigns for fitness businesses. If you're looking to get more leads to increase your box's membership, give us a look.
13. Do Some Data Analysis and See Where You Have Room to Grow
Big data is getting more and more important as a valuable tool that businesses can use to find areas of growth; the same goes for improving your CrossFit box's brand recognition, revenue and profit. Given, your affiliate isn't going to have terabytes of data to crunch, but there are still some areas you can dig into and find grow. If you're using Stripe to collect monthly payments, look at the tool called BareMetrics. You simply have to connect them to your Stripe account and they will provide you with a valuable flow of important metrics for your business; average revenue per user, user churn, average user length, etc. This simple (and cheap) tool can greatly improve your business. Beyond using BareMetrics, you can also do a simple Excel spreadsheet analysis to find where you're making the majority of your CrossFit's profit. It is coming from monthly membership fees, or is it from member's paying year-long all-at-one payments for their membership. These are things that you might not see without looking at with a Spreadsheet, but they can show you great areas of improvement.
14. Consider Giving Free Membership to "Local Celebrities" or Influencers
This is a funny marketing concept, but it just might work for you to generate some word of mouth advertising. Do a little research with your marketing team (below) and see who you come up with on a list of local celebrities in your city. For most of the USA, this will include local newscasters, the heads of the country club, large businesses, popular restaurants, etc. Reach out to these people and offer them a free or deeply discounted monthly membership. All you'll ask in return is that if they enjoy your CrossFit (and they should), they'll tell their friends about it and maybe drop it into conversation when they're out and about in town. Sven Sundgaard is a Minneapolis newscaster and though I don't think he's a CrossFit athlete, he's an active fitness person who has a following on Instagram, etc. This is the type of guy you want to offer deals to.
15. Build a Team of Creative Marketing & Advertising Minds to Grow Your Business
If your CrossFit is getting into the mature and profitable stage of business, it's probably time that you hired a few marketing people for your business. Lots of people want to hire their friend who took a marketing class in college and thinks they're the next Don Draper, but that's usually a bad idea. Hire someone with some professional experience. If you don't need a full-time marketing team, hire an agency. They're going to charge you a decent fee, but if you're looking for long-term success at your affiliate, you're going to want to have creative marketing ideas for your CrossFit on a consistent basis. This agency is going to do just that. Plus, if you get angry at your agency, you can fire them and hire a new one. If you get angry at Pete, your friend who thinks he is a marketer, you can't really fire him and hire a few friend.
Image Credits:
CrossFit Thin Blue Line
Springfield Trainer
The Old Gold PDX
Great Brook
Lake Forest EDU
Wordstream
Shaped for Fitness
Brand Neu Sense