8 Sexy Gym Advertising Campaigns from Around the World
There's good gym advertising, and then there's GREAT gym advertising. The FitnessTexter team scoured the internet to find 8 sexy (and hopefully successful) advertising campaigns from around the world. These gyms all put in the time and effort to produce some very memorable advertising campaigns. Now, we understand that not every business can hire a fancy advertising agency to help them marketing their business; life just doesn't work that way. However, the examples that follow are purely to highlight some of the most outstanding advertising campaigns that we have seen in a long time. Though the investment was probably significant for many of these campaigns, I'm sure they saw some great results from these campaigns. Check them out below:
Godoi Muscle Gym Shows some Girth
Since we were talking about sexy advertising campaigns, we might as well start out with a bang. Here's an advertisement from Godoi Muscle Gym in Brazil. Wowzer! This was created by the LongPlay 360 agency in Sao Paolo Brazil. Brazil's sexy vibe comes through strong in this advertisement. If you're a guy that is on the fence about starting to weight lift, this might just be the poster that gets you started. What's better than having pecs so big they need to be measured. We're not located in Brazil, but if we were, we'd be lifting at Godoi's for sure! Hot stuff!
Sex Sells for Equinox Fitness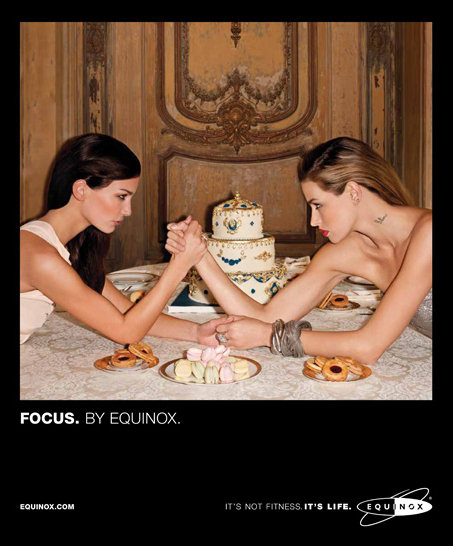 Anyone in the fashion world will surely recognize the photographer from this gorgeous Equinox Fitness advertisement. Any idea? It's Terry Richardson. The famous fashion photographer was contracted by Equinox to produce a series of sexually-fueled print advertisements. They sure got our attention! In usual high-end photography fashion, they really have nothing to do with going to a gym. However, Equinox has deep pockets and a wealthy clientele that easily relates to this type of photography. You can't deny that it's a great photo, even if it has about zero in common with starting a fitness membership.
As one of the more expensive fitness businesses, Equinox went for more of a "what being in shape will get you" feel in these ads, as opposed to a purely, "come sign up!" mentality. We think it worked quite well!
Gold's Gym Shows Some Angry Buttons
Gold's Gym has always been a big player in the fitness world. They also have a healthy marketing and advertising budget with which to work. That said, this advertisement gave us a good laugh. Produced by Jotabequ in Costa Rica, the tagline in Spanish says, "The time is now!" Almost everyone's had to deal with some tight buttons on their favorite shirt or pair of pants. Well, now you know how your buttons felt! I like this advertisement simply for the simplicity. It doesn't need much explaining beyond the simple idea of, "hey, it's time to get in the gym." I'm sure this ad resonated with the people that fear becoming overweight.
OxyGo Gives Overweight Men a Reminder
If you're an chubby man, this advertisement hits you where it hurts! There's not much explaining needed either. If you've got a gut, it's probably been a while since you've seen your body in its best form. Though there's definitely a focus on not being able to see your penis when you're overweight, there's also the subtle man breasts in this image. Maybe it's a bit too extreme for some people's taste, but it sure gets the point across. 2008scandinavia was the agency behind this viral advertisement. It was quite popular on almost all of the usual social media streams. We're not sure if OxyGo was successful, but they sure got some great publicity.
Equinox Causes some Religious Controversy
If you thought the first Equinox advertisement was racy, you ain't seen nothing yet! This one stirred some controversy when it first came out, but Equinox didn't back down. Like they say, there's no such thing as bad publicity. Perhaps this ad was offensive to a large percentage of the population, but there's another equally large percentage of the population that found it absolutely hilarious. We found it to be quite funny and controversial, which is exactly what Equinox wanted with this image. I'm not sure where they published it, either online or in print, but I'm sure it stirred up a lot of chatter on social media when it was published. That's the point of good advertising, it gets people talking.
This campaign was shot by famous fashion photographer Ellen Von Unwerth and got plenty of attention when it came out.
World Gym Goes After Couch Potatoes
World Gym ran this funny advertisement a few years back. Playing on the old "don't fall for the trap" mentality, they depict a video game controller underneath a baited couch. "Run Away" is their tagline; encouraging people to not fall for the simple trap of spending all your free time on the couch playing video games. We're not sure who created this ad, it might have been an in-house production. Either way, we're a fan. In today's day and age, many kids and adults (normally men), spend their time outside of work playing video games and doing other non-physical activity. This is a good advertisement for them, since it highlights exactly the situation of the adult male gamer.
MyBody Gym Swims with the Fishes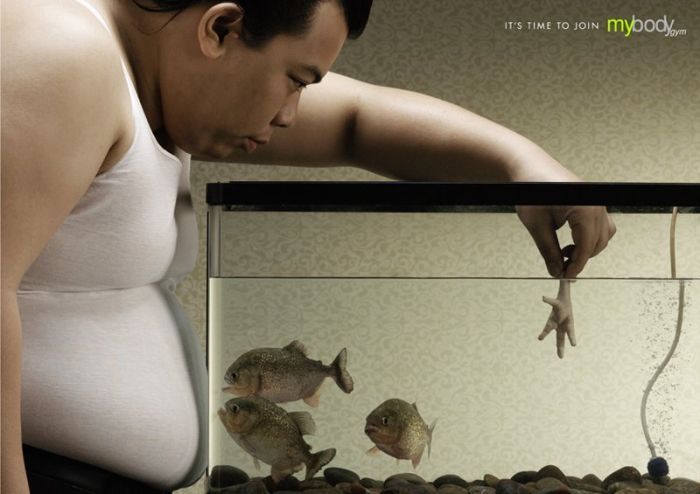 Ogilvy & Mather Advertising are the geniuses behind this funny advertisement from Jakarta. The aquarium of piranhas aren't even interested in a tasty chicken foot when there's a beer belly right in from of them. One of the highlights of this advertisement is that it takes a few seconds to figure out exactly what's happening. At first we thought it had to do with the skinny little chicken foot. Then we looked closer and realized that the piranhas are looking at their owner's gut as their next food source. Took a few seconds, but when we got it, we GOT it. With the average American male sporting a beer belly or, on a lesser note, the "dad bod", this avertisements gets right to the point about highlighting your unfit body.
Go Big or Go Home for PowerHouse Gym
PowerHouse Gym wasn't messing around when they put up this gigantic advertisement on the side of a condo being constructed. What better place to advertise! Every day, thousands of people are most likely driving by this new condo, taking a peek to see how far along they are in the construction process. Why not latch onto all of that eye traffic and get some publicity for your gym. This advertisement, if we had to guess, is going to cost several thousand dollars to produce. Not the easiest line item to budget when you're a small gym. However, there are other cheap advertising mediums for small businesses. Get out there and start advertising and you'll get more customers and gym members in no time.
There you have it! If you have any other good ideas of submissions for this post, please post them in the comments below.